R&M Precision Marine strives to assist all boating people with our range of supplies and along with free information, photos, diagrams and blogs.
R&M Precision Marine is a family owned and operated business, specializing in retail, boat repairs and maintenance, that has been operating for the past 28 years.
The family of Bob, Margot, Jason Heaney and Kylie Pearce (Heaney) have been actively involved in boating spanning back over 45 years in which time having achieved much success in all aspects of water skiing and competition including holding records for 10 consecutive years in the Centremount class of ski racing at Echuca Southern 80, Robinvale 80 and Mildura 100.
Experience gained in inboard ski boats involving engine building, competing and marketing Bob and his staff are only too willing to pass on their gained experience to all.
In recent years we have been an active partisipant in outboard boat circuit racing throughout Australia in both displacement hull and tunnel boats and gaining both Victoria and Australian titles.
Above and below is Jason driving the "PRECISION MARINE RACING" tunnel boat.
In gaining knowledge in this field we are only to happy to pass it on to people who require it. The team are also keen fishermen and can also contribute to the needs of those who want knowledge or require parts.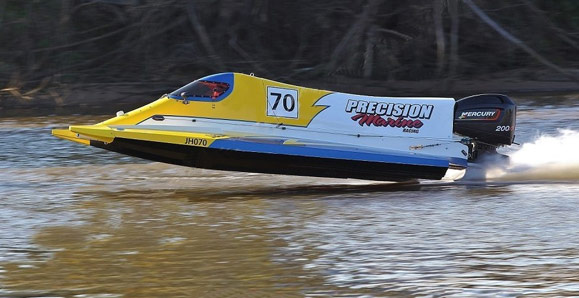 Above is Jason in same boat with different colours.